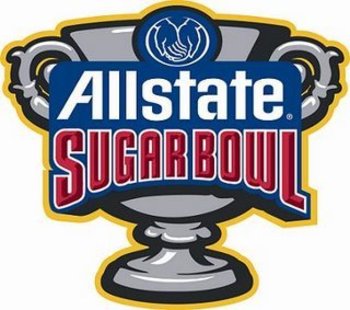 #13 University of Michigan Wolverines (10-2) vs. #11 Virginia Tech Hokies (11-2)
What: AllState Sugar Bowl
Where: Mercedes Benz Super-Dome
When: Tuesday, January 3rd at 7:30 P.M. EST
The 2012 Sugar Bowl is a match-up of two teams that many college football fans feel should not be playing in a BCS bowl. The Sugar Bowl Committee's selection of the Wolverines and the Hokies proves that outside of the National Championship Game, the other BCS games are more about ticket sales and ratings rather than a competitive match-up. The Wolverines had an incredible bounce back season under first year coach Brady Hoke that saw them recover from an underwhelming 2010 season with a 7-6 record under Rich Rodriguez and included bad losses to rivals Michigan State and Ohio State. Hoke from day one came in and changed the mindset of the Wolverine team that translated into a more balanced offense and a top 10 scoring defense which played a pivotal role in securing victory over rival Ohio State which hadn't happened in 8 years.
While Virginia Tech Comes into the game with only two loses, the two defeats came at the hands of the Clemson Tigers and they were never in either game competitively, with the most recent loss coming in the ACC Championship. Virginia Tech comes into the game being led by Head Coach Frank Beamer whose staple has always been a tough defense and outstanding special teams. This year the emergence of Sophomore QB Logan Thomas really gave some stability to the position that struggled the previous two seasons. Junior running back David Wilson falls in line with every other great Hokie running back and he even garnered a few Heisman votes after posting a 1627 yard season that had him ranked 5th in the nation in rushing.
The Wolverines Win if…
Denard gets a jump on the 2012 Heisman race:
Everyone who follows college football knows how special and electric Junior Quarterback Denard Robinson is and even though his statistics in 2011 (3219 total yards  34 TD) are no where close to what he put up in 2010 (4272 total yards 32 TD) he actually was more dangerous because he had help. This season Denard was able to play the majority of the snaps because he didn't have to take the pounding he did the first two seasons, because he was able to rely on sophomore running back Fitzgerald Toussaint who matched Robinson with a 1,000+ rushing yards. With defenses being unsure of who is running the ball makes that read option even more dangerous. If Robinson ends up with over 300 total yards in this game like he did versus the Buckeyes it will be a long day for the Hokies defense.
Logan Thomas has to carry the Hokies:
While Logan Thomas has made strides in his first full season as starting QB, he still is young and inexperienced. In the two losses this season star running back David Wilson combined for 32 carries and 163 yards with 127 of those yards coming in one of the games.  The Wolverine rush defense has shown the ability to shut down running backs; they only allowed Rex Burkhead of Nebraska 36 yards on 10 carries and limited "Boom" Herron of Ohio State 37 yards on 15 carries. If the Wolverines are able to force Logan Thomas pass attempts into the 30+ range that will then allow their defensive coordinator Greg Mattison to be a lot more creative which could confuse the young gunslinger.
It comes down to the Kickers:
Until this season U-M was very shaky with their field goal kicking, this year the were able t0 settle on Sophomore kicker Brendon Gibbons who was 10-14 this year with his longest being 43. And while those numbers don't seem outstanding Wolverine fans can look back to many games over the past three seasons where those percentages would have equaled a couple more wins. And while the wolverines have stabilized the position the Hokies are in a state of flux after suspending their starting kicker Cody Journell and having to send home his back up Tyler Weiss for breaking Sugar Bowl curfew. They are now down to kick-off specialist Justin Meyer and punter Michael Branthover who kicked field goals in high school.
Virginia Tech Wins if…
Wilson runs wild:
In the two losses that the Wolverines suffered this year, versus Michigan State and Iowa, both teams not only were able to establish the running game but it was their primary point of attack. Spartan back Edwin Baker was able to put up 167 rushing yards and Marcus Coker of Iowa had 132. With both backs having set the tone it allowed Kirk Cousins and James Vanderberg to use the play-action pass to pick apart the one weak spot for the wolverines its secondary. If the Hokies are able to establish Wilson early and often that will force the wolverines to blitz more and give Thomas the space to find the dangerous Jarrett Boykin for big plays.
Bud Foster is being celebrated:
Bud Foster has been the defensive mastermind behind many of the successful Virginia Tech teams since 1995. Since moving to the ACC in 2004 the Hokies have been highly ranked in total defense as well as scoring defense. He has been credited for being a coach that is created in his blitz schemes and if the Hokies are able to use that to not only contain Denard but force turnovers and rough him up some,  that can change the outlook of the game because the Wolverines are a totally different team with Devin Gardner in as quarterback.
Logan goes "Shoelace":
While Thomas has shown some ability to move in the pocket and take what the defense gives him (416 rushing yards), he is not the running threat that Denard aka "Shoelaces" is. However if Logan can use his feet to take advantage of the fact that the Wolverines will be doing everything defensively to contain David Wilson, it will add another aspect of the offense that the Wolverine defense will have to be ready to stop. In the last game versus Ohio State, while they did a great job in stopping Herron, freshman QB Braxton Miller was able to exploit them for 100 yards on only 16 carries.
Prediction:
The Hokies struggled with a dual threat quarterback with options in Tajh Boyd and it looks like it will be the same result in facing a more dangerous threat with Denard Robinson. While David Wilson will be able to have more success than the previous two running backs who faced U-M, the style of quarterback Logan Thomas is, will be a lot easier to defend against. He will be forced into at least two turnovers and Denard & Co. will take advantage with Robinson running for two touchdowns and passing for another.
While Frank Beamer has had a great career as Virginia Tech coach, lately his struggles in big games, especially BCS bowl games, has many college football fans wondering why they were even invited to the Sugar Bowl. The questions will get louder after they are dismantled by the Wolverines and Coach Hoke, who with the win, has set his team up to be contenders for next years BCS  Championship game.
Score: 38-21